Top 10 Comics circa June 1 2011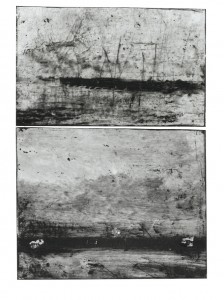 My list of top 10 comics went up today as part of The Hooded Utilitarian's comics poll (on this page). I didn't add commentary to the original list, but now I wish I had, so… Here's what I originally sent in, and then some comments on each selection:
In no particular order, surely colored by those pieces I have more recently reread/seen. Taking a broad view of comics for one of these and probably leaning too much towards longer works because they are easy to see on the shelves.

Love & Rockets: Locas Stories by Jaime Hernandez (as a whole series)
Peanuts by Charles Schulz
King-Cat Comics and Stories by John Porcellino
Phoenix by Osamu Tezuka
Fifty Days at Iliam by Cy Twombly
How to Be Everywhere by Warren Craghead
Krazy Kat by George Herriman
The End by Anders Nilsen
Journal III by Fabrice Neaud
Par Les Sillons by Vincent Fortemps
Locas: Well, I already got a chance to write about that for the poll.
Peanuts: I read this as a kid in the newspaper, but it was only when I started getting the Complete reprints that I really appreciated how good Schulz was. A few relevant posts.
King-Cat: I have probably already praised John Porcellino's work to excess. Here are a bunch of posts I've written.
Phoenix: My favorite Tezuka work, my favorite manga. I wrote a 13 part series on this in 2009.
Fifty Days at Iliam: People may argue at its comic-ness, but this series of 10 paintings fit enough criteria that I'll call it a comic if I want to. Word and pictures: check. Sequence: check. Page layout: check (in this case, the "page" is a dedicated room in the Philadelphia Museum of Art). What more can you ask for? Oh yes, it is an amazing, beautiful, expressive, dynamic series, that repays repeated visits. See the museums images of the work.
How to Be Everywhere: I still haven't written a post on this series of Warren's Apollinaire adaptations, but it was a no brainer addition to list. Poetic comics that always has more to offer with each reading. I have 2 pages from it on my bedroom wall. This is an unrecognized gem of a work. Samples here (and you can order it too).
Krazy Kat: This probably doesn't need comment. Right? Here's a post I wrote a long time ago when I first read the strip.
The last three additions were where my list making started to get harder. The first seven were pretty easy for me. From here on in, my selections were, to some point, skewed by work I had read recently, and probably a bit towards work I thought wouldn't get enough attention in the poll (though surely, someone else voted for Neaud?).
The End: Nilsen's Don't Go Where I Can't Follow is a lot more direct and has, I think, gotten more attention than this shorter more abstract book, but to me, this is the real masterpiece. This is quietly powerful, heartbreaking even, without spelling everything out, without getting too explicit. It's not hard to see why #2 never materialized. Where could you go from here? Surely, one of the most depressing comics ever.
Journal III: I'll admit I've only read this once. It's in French and it took me quite awhile, but, damn, this is one of the best autobiographies ever made in comics (and I haven't even seen the other 3 volumes in the series). Beautifully drawn, expressive, intelligent, political, even. Still no English version? For shame, English comics publishers… for shame.
Par Les Sillons: I probably reread this the day before I made my list, so it was fresh in my mind. This is a big beautiful, messy book that is wordless (so no worries that it's from Europe, and the indicia is translated into English). The art veers between representational and abstract. It looks like its made of monoprints, dark and smeary and etched with scratches. The story has war and nature, leaving and homecoming, and ends with falling leaves. I want to read it again right now.