Illustrated Wallace Stevens: Plain Sense of Things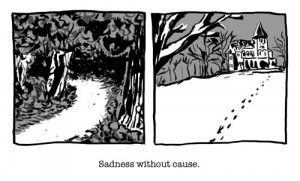 The Hooded Utilitarian is running a roundtable of artists illustrating Wallace Stevens poems.
My version of "The Plain Sense of Things" went up today. It's a 10 page comic using some but not all of the text from the original poem. I wanted to recreate some of Stevens' imagery without redundantly mirroring the text, so I excised text as appropriate. That probably means I'm a butcher of a great poem, but I wanted to make something new rather than just a poem with pictures added.
I encourage you to check out the rest of the roundtable (still ongoing), including pieces from a few artists whose work you've probably already seem me raving about, such as Warren Craghead, Jason Overby, and Franklin Einspruch. Lilli Carré made a great short animation, and James Romberger made his poem into a Caniff-esque Sunday strip. See the full list with links at that first link above.