Mark Tansey is, hands down, one of my favorite painters. His works are thematically/conceptually rich, beautifully painted, and narrative. They often deal with matters of representation, art theory, and texts. Titles like "Derrida Queries de Man", "The Triumph of the New York School", "Close Reading", and "The Bricoleur's Daughter" should give you an idea about his paintings.
I'll find some images to link/post next week, but for a start here is the left half of "Triumph of the New York School" (1984, owned by the Whitney in NYC as of 1993). This is the European side of the painting. The other half features such NY art figures as Clement Greenberg, Pollack, Rothko, etc., in army uniforms around army vehicles. Is this part, Andre Breton's back is turned to us (he is signing the treaty of surrender), Picasso is the one in the fur coat, while Duchamp stands rather aloofly, hands in pockets, in the distance. I'm not clear on specifically who all the rest are.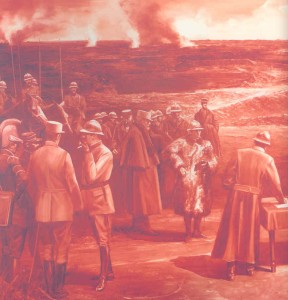 Once I started looking into his work, I discovered that he has a process for generating ideas for his paintings. Part of this process involves his "wheels". The wheel consists of three concentric circles on a center pivot. Each circle is labeled with words in such a way that one can spin the wheels and come up with phrases formed from the combination of the three circles' words. The most lavish wheel, a large wooden table with a lazy susan-like top, has 180 entries on each of is three rings. From the inside out the words are nouns, participles, and objects, which lead us to phrases such as: "Borgesian cartographers redeploying jouissance" or "stock characters suspending disbelief in unshakable foundations". The wooden table wheel allows for over 5 million possible phrases.
Here is a paper version of the wheel:
And here is Tansey next to the table version:
Tansey takes the created phrases and categorizes them as "motifs", "oppositions", "problems", etc. on a grid creating juxtapositions and further combinations to use as ideas for new or ongoing works.
It's an interesting combinatorial process that could, no doubt, be also put to literary use. The wheels are motivated by a controlled chance. While, the spin of the wheel creates an element of chance, the limited vocabulary of terms on the wheels shuts down the variety of possibilities for chance to work in.
Reference:
Freeman, Judi. Mark Tansey. San Francisco: Chronicle Books, 1993.